Over the Mountain

Logo design & website design for Guest Farm.
June 24, 2015
Guesthouse Website Design and Logo Design
We were approached to redesign the logo of an existing guest farm, based in Herold by the new owners. Part of the re-branding project was to do a complete website design.
It proved to be a challenging but ultimately fulfilling task. We are proud to say that we exceeded not only the client's expectations, but also our own. Their unique selling point is offering cooking and art courses. We incorporated this into their logo design. We also added the gables and hop farms in the logo design.
The guesthouse website design was also a challenge. But from the first presentation the client was very pleased. The guys from Social Communication did a great job indexing their website and boosting their online presence. We wanted   to promote their main selling points. The first target was to promote their guest house accommodation. From there we wanted to feature the cooking classes. Finally we added the art courses. For the rest of the website design we implemented straightforward banners to showcase what makes them great.
You can view their website redesign which promotes their new brand very effectively. Thanks to Over the Mountain for being such great customers and a pleasure to work with!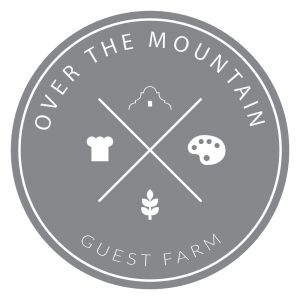 Do you need a website design, logo design or any other graphic designer services? Contact CO-UP to discuss how we can help your business reach the next level. Visit our graphic design studio in Pretoria.